Buying a new computer is an expensive proposition. Rising component costs have sent PC prices soaring, while Apple has bumped up sticker prices across its laptop lineup. And while Chromebooks may appeal to cost-conscious consumers, they present tricky performance tradeoffs, with limited storage and graphics capabilities. For professionals, gamers and anyone in need of serious processing power, shopping for a new machine will probably entail some sticker shock.
If you're considering a new computer, however, you do have some options to help offset your costs. One possibility is holding out for a sale, capitalizing on holiday markdowns or back-to-school promotions that crop up each summer. You could also keep an eye out for new product announcements, then grab the previous model at a deep discount.
But no matter when you shop for a new computer, the best way to cut down your costs remains the same: Tapping into the value contained in your current machine. By selling your old computer, you can convert an aging device into much-appreciated money.
Think about it: Unless you have plans for a DIY project, you won't have much use for your old computer once you get your hands on a new one. Why let your old laptop collect dust in your closet, when you could collect cash instead?
Unfortunately, many Americans miss the opportunity to sell their old devices, simply trashing them instead. The average U.S. household discards 176 pounds of electronics waste each year – losing a potential goldmine of resale value in the process.
Why do so many of us skip the chance to sell our old machines? It's not for lack of options: Plenty of companies, trade-in sites and individual buyers are interested in used computers. Yet this wealth of possibilities presents its own challenges. With so many potential buyers to consider, where do you even start? And once you do decide to sell you old computer, how can you be sure you're getting a fair offer?
Unless you're a season pro at selling used tech, these questions can seem daunting. But don't let uncertainty about the process prevent you from cashing in on your old computer. We've got all the guidance you need to make a great decision – and get an excellent offer for your aging machine.
In this guide, we'll discuss your options for selling your old device, even if its scuffed or sluggish. We'll walk you through your various options, from big box stores that buy used tech to selling it yourself on eBay. We'll even show you how to identify your computer's specs, so you can accurately describe your device to potential buyers.
Last but not least, we'll explain how to wipe your device completely clean, so you can rest assured that none of your personal information will be accessible to future owners. Our computers are repositories of our most sensitive data, so privacy is a top priority when selling an old machine.
If you're ready to cash in on your old computer and get the brand new machine of your dreams, look no further than this guide. We've got all your questions covered, so you can sell with confidence.
Is My Computer Too Old or Damaged to Sell?
It's easy to dismiss the value of your current device, especially if you've had it for several years or it shows signs of wear and tear. Many sellers are skeptical about the market for their computers, assuming that no one will want a machine well past its prime. Thankfully, they're often mistaken.
Long past their launch dates, computers often retain enough value to make selling them worthwhile. This remains true even if the computer in question has sustained cosmetic damage. Of course, demand for your device will be contingent upon a range of factors, including your machine's condition and specifications. More importantly, Macs and PCs retain their value very differently.
Below, we'll help you evaluate whether you can sell your old computer based on its condition and age.
Is my PC too old to sell?
Because PCs vary so widely, it's impossible to estimate the market value of a given device based on its age alone. But we can supply some examples that might surprise you – and give you faith that you can sell your own machine.
At the time this article was written, for example, we found several used Dell 1545 laptops for sale on eBay, with an average selling price of approximately $45. That might not sound like much – until you consider that the product was first launched in 2009 and weighs 8.7 pounds.
PCs released more recently will often yield far more substantial offers. At the time this article was written, Amazon was offering up to $200 for the Samsung Galaxy Book, a tablet-laptop hybrid first released in early 2017. Unfortunately, resale value can vary wildly between brands. Take the Lenovo IdeaPad Miix 310, another laptop hybrid initially launched in 2016. Amazon currently offers just $15 for this device, a sum few sellers will find attractive.
In other words, you won't know how much your computer is worth until you do your research. You might be pleasantly surprised by what you find.
Additionally, it may be possible to sell individual parts of your PC, even if your device is outdated. Doing so typically takes some tech savvy, because you'll need to take your computer apart. If you're up for that challenge, though, sites like SellGPU.com will take high-end parts produced within the last eight years.
Is my Mac too old to sell?
While Apple computers are quite costly, they retain their resale value remarkably well. This dynamic is a function of the sticker price: Because Apple computers are so expensive, fewer people can buy them brand new. That means a limited supply of machines on the market – and a whole lot of buyers looking for Macbooks and iMacs at preowned prices. Accordingly, it's highly likely that your current Apple computer can be sold, probably for a pretty penny.
In many cases, Mac desktops and laptops are still worth hundreds of dollars nearly a decade after they were first released. Sound too good to be true? Just check out our offers.
At ItsWorthMore.com, we routinely offer hundreds for various Macbook, iMac, Mac Pro and Mac Mini models. While our offers depend on the condition and components of each device, we're willing to spend generously to acquire outdated models. The figures below present the maximum price we offer for a variety of older Mac computers, demonstrating just how much your current machine could be worth.
| | |
| --- | --- |
| Product and Year | Maximum Offer on ItsWorthMore.com |
| Mac Mini (2011-2012) | $482 |
| MacBook Air 13" (2009) | $335 |
| MacBook Pro Unibody 13" (2009) | $275 |
| MacBook Pro Retina 13" (2012) | $555 |
| iMac Slim Unibody 27" (2012) | $590 |
| iMac Retina 27" 5K (2014) | $1,300 |
We should note that these figures may no longer be accurate: By the time you're reading this, the market may have shifted. Moreover, these maximum offers correspond to computers in excellent condition with top-of-the-line specifications.
Still, we hope these numbers indicate just how valuable older Macs can be. With resale offers this high, there's no excuse to leave yours just sitting around.
Even older Apple computers can find buyers, though your options will be significantly more limited. Currently, ItsWorthMore.com doesn't offer any money for Apple computers made before 2009. Apple's own trade-in program applies even stricter standards in some cases: The company won't pay for iMacs or Mac Minis made before 2010.
If your device dates back to the mid-2000s, your best bet may be a sell-it-yourself platform like eBay, where buyers often pay $100 or more for aging Apple products.
Is my Mac or PC too damaged to sell?
Buyers of used computers don't expect perfection. While pristine machines do fetch higher prices in the resale market, computers with cosmetic blemishes are still worth plenty of cash. Significant scratches, dents and cracks, however, will devalue your device more significantly.

While every buyer evaluates the condition of devices somewhat differently, ItsWorthMore.com assesses devices on a scale that ranges from "brand new" to "broken." As the device condition deteriorates, our offer declines accordingly.
Yet even broken computers can be worth hundreds of dollars (especially in the case of Apple devices). Don't assume that a cracked screen or dented body disqualifies you from the resale market. We regularly pay hundreds of dollars for laptops or desktops with significant issues. Until you actually seek out offers, you'll never know how much equity resides in your damaged device.
Unfortunately, however, internal damage will severely limit your resale options. If your computer won't turn on, boot up and function as intended, many buyers won't be interested. Currently, ItsWorthMore.com doesn't make offers on nonfunctioning computers. Apple doesn't either – even if your machine was released quite recently.
There are some sites that will buy computers in this condition, though their offers are sometimes too low to be worth taking. If you go this route, read reviews to ensure the company is trustworthy (and will actually pay up). Additionally, you may get lucky on eBay, where sellers can designate their device as "for parts or not working." For a tech-savvy buyer looking to refurbish another machine, your broken computer could be a valuable source of components.
What should I do if my computer is too damaged to sell?
In the unfortunate event that you can't sell your computer, don't toss it in the trash. Electronics waste is a growing problem worldwide, and it's easy to do your part by recycling your old computer. The following companies and agencies will help you do exactly that – at no cost at all.
If none of these options is convenient, check out the EPA's website for more electronics recycling possibilities.
Should I Upgrade My Computer Before Selling It?
As we mentioned above, resale price hinges upon a computer's specifications, with buyers willing to pay more for high-powered processors and extensive memory. Accordingly, you might be tempted to make some upgrades before selling. After all, if your resale price jumps considerably,an upgrade could be a worthy investment – right?
Possibly, but there's no guarantee that this approach will prove profitable. In some cases, doubling your RAM will only lift your resale price by $10 or $20. Sometimes, potential buyers don't even take essential specs, such as hard-drive space, into account at all. In this sense, even the cheapest upgrades probably won't deliver much return on investment.
On the other hand, you might find eBay buyers willing to pay more for the upgrades you've made. When selling to a tech-savvy audience, however, you probably won't make a killing: After all, they could make similar upgrades themselves.
For those with Apple laptops released in recent years, this upgrade conversation may be largely irrelevant. After the launch of Retina in 2012, upgrading the RAM in MacBooks (including Air and Pro Models) became virtually impossible. Moreover, you can't upgrade the hard drive in many recent Macbook models yourself.
Generally speaking, therefore, upgrading your machine to increase its resale value probably won't pay off. Doing so might extend the life and improve the performance of your computer, however, creating an entirely different kind of savings.
How Can I Sell My Computer For the Most Money?
As we noted earlier, people with used computers to sell have an array of would-be buyers to consider. In most cases, the challenge isn't finding an interested party, but choosing among the various ways you can sell your machine.
There's no single, correct way to sell your old computer. Each alternative possesses distinct pros and cons, and the best option will ultimately reflect your individual preferences. In this section, we'll explore the upsides and drawbacks associated with each possibility. With this info in hand, you can select your preferred buyer with confidence.
eBay, Craigslist and Similar Platforms
Pros: By connecting directly to potential buyers, you'll cut out the costs of the middleman. Plus, you'll find a market for older computers or parts.
Cons: eBay charges frustrating fees, while Craiglist encounters with local buyers don't always go smoothly.
The promise of sell-it-yourself platforms is undeniable: With buyer and seller engaging directly, no other company makes money from a markup. Accordingly, buyers and sellers are both get a better deal than they would otherwise. Sounds perfect, right?
Unfortunately, reality differs significantly from this idealized process. eBay charges sellers significant fees, and leans heavily in favor of buyers in the event of a dispute. There's also the hassle of setting prices, tracking bids, and shipping your computer safely.
Local options like Craigslist, LetGo and Facebook Marketplace cut fees and shipping out of the equation. But as any experienced seller on these platforms will tell you, deals often fall through – and frequently entail uncomfortable meetups.
Still, for sellers whose priority is getting the best possible price, these platforms are hard to beat. For these folks, cold hard cash is worth the additional hassle.
Plus, eBay introduces sellers to a wide range of buyers, many of whom aren't picky. Even if you've got an old or broken computer, someone out there is probably willing to bid something.
Apple
Pros: A simple, smooth and convenient trade-in experience: Ship your device in for free or take it to your nearest Apple store.
Cons: You guessed it: Apple will only pay for its own computers. Plus, your trade-in translates to store credit, meaning you can only spend the spoils with Apple.
Apple's GiveBack program is exactly what you'd expect from the storied brand: Slickly packaged, intuitive to use, and totally disinterested in anything running Windows. Sure, they'll recycle your PC for free, but don't expect any cash for it.
For those with Apple computers, however, Giveback offers two modes of exchange: You can ship your old computer in with a prepaid kit, or visit the nearest Apple store with your device. The company then gives you an Apple gift card in the amount of your trade-in value, which you can put towards your next Mac purchase.
If you're committed to one-stop shopping at Apple, the GiveBack program is pretty convenient. But if you're looking for maximum value or cash offers, this isn't the right option for you.
Amazon
Pros: Tons of trade-in options are accepted, and the shipping process is easy enough.
Cons: If you've got an older PC, your offer may not be impressive.
If you turn to Amazon for basically any purchase, you might like selling them something for a change. The ecommerce giant operates a huge trade-in program, welcoming used devices from a range of brands. Just describe your device, get a free shipping label, and send it in. Once Amazon confirms your computer's condition, you'll get a gift card to use on their site.
While store credit is always less flexible than cash, it's hard to think of something you can't buy on Amazon. But it's hard to know just how much you'll get, with values for various models and brands differing widely. In some cases, powerful PCs a few years past their prime yield offers of $25 or less. At that rate, we're definitely in "take it or leave it" territory.
Additionally, their pricing model permits very little nuance: A small crack or defect in the screen drops your offer just as much as a massive one.
Big Box Retailers
Pros: In-person convenience is a plus, but you also have easy shipping options.
Cons: Offers tend to be low, and you'll get a gift card instead of cash.
While plenty of major retailers offer tech trade-in programs, not all accept used computers. Walmart and Target, for example, are focused on cell phones, tablets and game consoles instead.
Thankfully, some tech-centric chains will still buy your laptop. Best Buy and Staples have trade-in programs, allowing you to convert your used computer into store credit. You can conduct the exchange at their retail locations or ship it to them instead.
These outlets are willing to buy a pretty extensive array of laptops, offering credit in exchange for brands like Acer and Toshiba. Unfortunately, offers can be depressingly low.
Trade-in Sites Like Ours
Pros: Quick offers, cash payment, and a smoother process than selling yourself.
Cons: Picking a trustworthy site is important.
In the spirit of full disclosure, we're vulnerable to bias: At ItsWorthMore.com, we pride ourselves on offering sellers a great blend of convenience and value. Trade-in sites like ours make money by buying used tech, using our skills to refurbish old devices, then selling them to new owners at great values. Because we buy used tech all day, we make the process easy for all involved.
Using our site, you can get an offer on your laptop in less than a minute. If you accept, we'll help you ship it to us for free. In this sense, we operate a lot like the programs described above.
But there are a couple key differences. First and foremost, we give you cash for your old computer, meaning you can spend your money anywhere. Second, we pay in two business days or less, so you're never stuck waiting for what you're owed.
Of course, not every trade-in site observes the same standards, and some are downright sketchy. Accordingly, selecting the right one can make all the difference. Check out our customer reviews to see what real people think about our process and our prices.
Sure, it's possible to get a slightly higher price if you sell your device yourself on eBay or another DIY platform. But if you want a painless, professional process, we might be perfect for you. After all, cutting out the stress and uncertainty of selling it yourself is certainly worth something.
How Can I Identify My Computer's Specifications?
However you decide to sell your computer, you'll likely need to provide some key details related to its components. These specifications ("specs") can be located quite easily on both Windows and Apple operating systems, but you'll need to know where to look for them.
Finding the Specs on Your PC
For RAM and Processor Info:
Right click on the start button (the Windows icon located on the bottom left of your screen)
Click "System"
Find the info listed under "Processor" and "Installed RAM"
Copy these items and paste them somewhere else for safekeeping
For Hard Drive Storage Info:
Click the start button (the Windows icon located on the bottom left of your screen)
Select "Settings"
Select "System" and then "Storage
View the total number of GB listed under local storage (not just how much is free)
Copy this number down for safekeeping
For the age of your PC:
If you don't know or can't recall when your computer was manufactured, there are a couple ways to estimate the age of your machine. If Windows has only been installed on your device once (by the manufacturer before you bought it), the Windows installation date reflects the approximate age of your computer.
Right click on the start button (the Windows icon located on the bottom left of your screen)
Click "System"
Scroll down to the "Windows specifications" section
Find the date listed next to "Installed on"
Another option is checking the "BIOS" of your device, which roughly corresponds to its manufacturing date, but usually predates it slightly.
In the search bar (to the right of the Windows icon), type "System Information"

Select the "System Information" app

Locate the "BIOS Version/Date" line and copy the date listed.
If you're still in search of a more precise date, you can also look for more info on the manufacturer's website.
Finding The Specs on Your Mac
For Manufacturing Date, RAM, Processor and Storage Info:
Click on the Apple logo in the top left corner of your screen
Select "About this Mac"
Under "Overview," you'll find info related to the manufacturing date and processor of your computer. Depending upon which OS version you're running, RAM info may also be displayed here under "Memory"
In not displayed under "Overview," information regarding RAM can be found under a separate "Memory" tab
For information regarding hard drive space, click the "Storage" tab
For Battery Health:
Macbooks allow users to view the health of their batteries, and some buyers may be interested in this info. To find out the state of your battery health: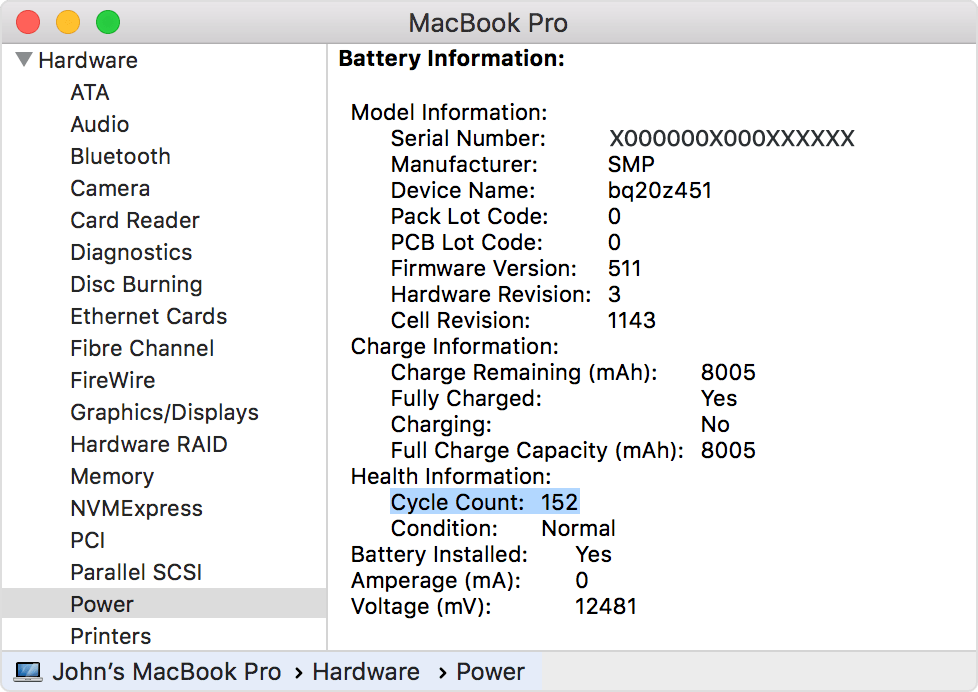 Hold the Option key and click the Apple logo in the top left corner of your screen
Select "System Information"
Under the "Hardware" section of this window, select "Power"
Under "Battery Information" you'll find "Health Information"
Note the term next to "Condition" (e.g. "Normal).
Storage Shortage?
When checking the total storage capacity of your computer, you'll probably notice something odd about the figure you find. Generally, the storage listed won't correspond to the typical quantities advertised by manufacturers, such as 128, 256 or 500 GB.
The causes of this discrepancy are painfully complicated, but don't sweat it if you see a lower number than anticipated. Manufacturers advertise using the common memory multiples, and you can too. For example, if you see 466 GB of storage on your computer, just round up to 500 GB. Poke around on any platform, and you'll see this is common practice.
What Should I Do Before Selling My Computer?
Before you send your computer off to any buyer, it might be nice to do a deep clean on its exterior (with computer-safe materials of course). But a far more essential cleaning is also required: Wiping the contents of your machine so no future owner can access your private data. With sensitive information all over your device, skipping this step is not an option.
To those who've never done it before, totally cleansing your computer can seem tricky. We'll show you how to get it done quickly and completely.
Wiping Your PC Before Selling It
Step 1: Back Up Your Files
Before you plunge ahead with purging your machine, make sure all the files you want to preserve are backed up elsewhere. Windows now offers several options for backing up your data, including on an external hard drive using "File History" or to the cloud via "OneDrive." However your prefer to save your info, create a manual backup right before you wipe your device.
Step 2: Reset Your PC
Hit the start button (Windows logo in the bottom left corner of your screen)
Click "Settings" and then select "Update & Security"
Under the "Reset this PC" heading, select "Get Started"
When prompted to choose and option, select "Remove Everything"
Follow the prompts to erase the full contents of your computer.
Wiping Your Mac Before Selling It
Step 1: Back Up Your Files
Just like Windows, Apple now offers users multiple options for backing up their devices. You can use Time Machine to back up to an external device, and documents, photos and other specific can be uploaded to iCloud. Because Apple makes small changes to these processes over time, we suggest you visit this page for updated instructions. Whatever you do, perform a manual backup right before you wipe your computer.
Step 2: Deauthorize Your iTunes account
Because your iTunes account is limited to five computers, you'll want to sever the connection between your account and your old machine.
In iTunes top menu, click "Account"
Select "Authorizations" and then "De-authorize this computer"
Enter your Apple ID and password and click "De-authorize"
Step 3: Disable iCloud
As with iTunes, you'll need to disconnect your iCloud account from your current computer.
Click on the Apple logo in the top left corner of your screen, then select "System Preferences"
Click on "iCloud" then select "Sign Out"
When asked whether you'd like to keep a copy of your iCloud data, deselect "iCloud Drive," "Contacts," "Calendars" and "Reminders." On some Mac computers, you may need to confirm payment details should be removed as well.
Enter your Apple ID and password.
Step 4: Restart Your Mac in Recovery Mode and Erase your Drive
Now comes the deep cleaning. This process can take some time, but it's not as intimidating as it might seem.
Click the Apple logo in the top left corner of your screen and select "Restart"
Right after you click "Restart," hold down the Command and R keys. Keep these keys pressed down until you see the Apple logo or a spinning globe.
If prompted, choose a language.
On the MacOS Utilities screen, select "Disk Utility" from the options offered.
Click "Continue" and then click on your hard drive in the sidebar on the left (typically called "Macintosh HD")
Click "Erase"
In the top menu, select "Disk Utility," then click "Quit Desk Utility."
Step 5: Reinstall a Mac Operating System
You can't sell a machine wiped totally clean: You'll need to install a Mac operating system before anyone else can use it.
In the MacOS Utilities Screen, click "Reinstall MacOS" and press "Continue."
On the next screen, click "Continue" to install the OS your device came with.
Click "Agree" to consent to the terms and conditions associated with the OS.
On the next screen, select your hard drive and click "Install"
Once the process is complete, your Mac will restart. You may be prompted to enter your information to begin the setup process, but don't. That's for your computer's next owner.
Skip the Selling Stress
We hope this article provides all the info you need to sell your computer for the maximum possible price – or at least in the manner that suits you best. For some, convenience matters more than getting top dollar, while others prefer an in-person exchange to shipping their machines. However you decide to turn your computer into cash, you have several solid options at your disposal. As long as you accurately identify your device and wipe it completely clean, you're bound to have a successful sale.
Ultimately, we understand that ItsWorthMore.com isn't the perfect fit for every seller. But we encourage you to at least see what we're willing to offer for any of your used tech. You can get a real quote in under a minute, with no need to create an account or provide contact info. We keep things fair and simple, empowering you to select the best offer out there. And if you do decide to go with us, we'll get you paid within two business days.
Selling your used computer, smartphone or tablet doesn't have to be time-consuming or tough. For all the preowned tech you have just sitting around, we offer a convenient way to cash in. Explore our offers today to see just how simple selling can be.
Sources