Before You Send It In
1) Backup your files, if needed. You can do this via Time Machine, or any backup service of your choice.
2) Sign out of iTunes
iTunes > Account > Authorizations > Deauthorize This Computer
This will remove the computer from your 5 allowed devices for iTunes sync. You will need to enter in your Apple ID and Password.
3) Sign out of iCloud
Mac OS Catalina or Later:
Apple Menu > System Preferences > Click Apple ID > Select Overview > Sign Out
Earlier MacOS:
Apple Menu > System Preferences > Click iCloud > Sign out
4) Sign Out of iMessage
Open Messages > Preferences from the Menu Bar > click iMessage > Click Sign Out
---
If You Need to Remote Erase
When you need to remotely remove a device from iCloud or Find My the first step is to visit https://www.icloud.com/
Here you can log into your Apple ID
Next step would be to enter the Find My page
Once you click on this option you may be prompted to log in again.
Once logged in you will be provided with a list of your currently online devices.
If you have no online devices, or you do not see the device you submitted in the list you need to click on All Devices in the top bar, like in the example below
Next step is selecting the device you would like to be removed.
In this example we will be removing the MacBook Pro that appears at the bottom of the list. All that is needed is to click on that device.

From here, we are going to be selecting the "Erase Mac" option, rather than the "Remove from Account"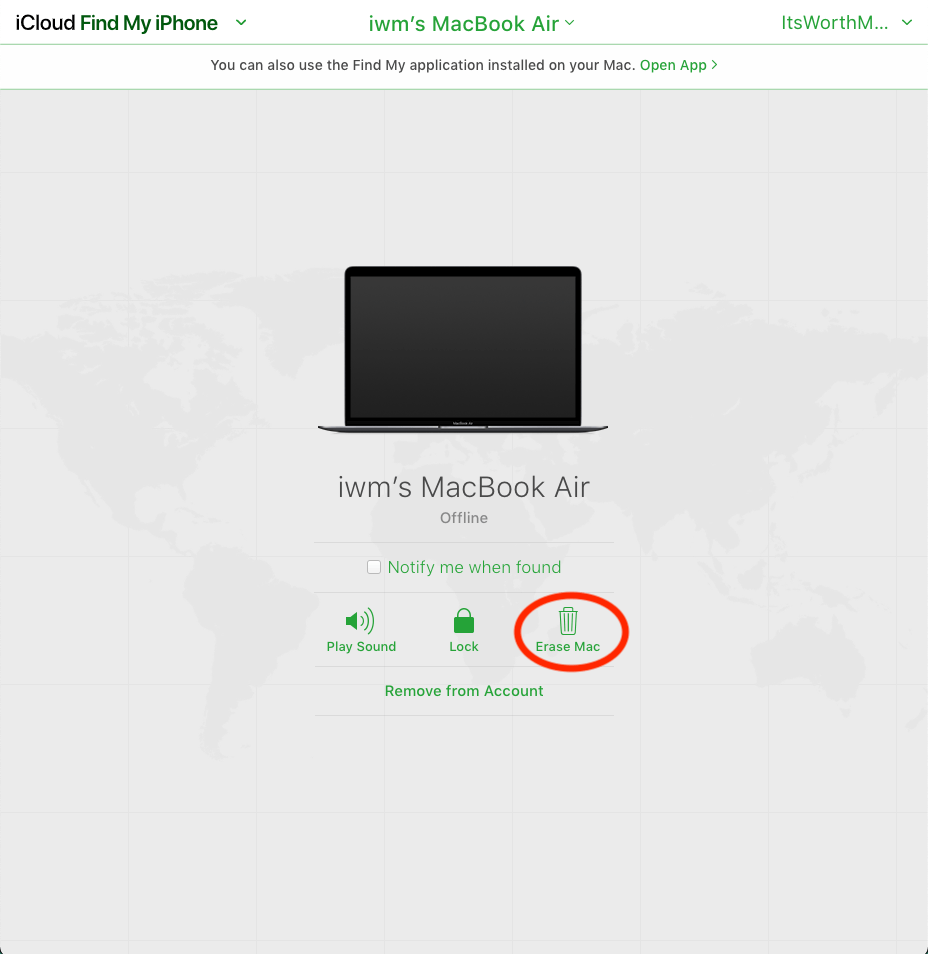 After sending the erase request it will ask you to confirm the erase, and then to log in again with your Apple ID.
After confirming the request you will be presented with the following screen.
At this point you can contact our customer service by email, at [email protected], or by phone at (855) 487-9678.
Please give our evaluations team up to two business days to re-check the device's status and then we can provide you with our offer on the device.